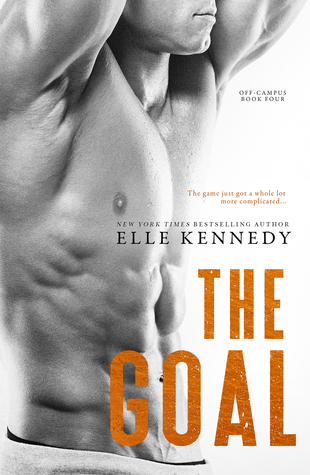 Genre: New Adult Sports Romance
Author: Elle Kennedy
Series: Off-Campus #4
Available Formats: eBook, Paperback
Available At: Amazon | Barnes & Noble | iBooks | Kobo
Release Date: September 26, 2016
New York Times bestseller Elle Kennedy brings you a sexy new Off-Campus novel that can be read as a standalone…
She's good at achieving her goals…
College senior Sabrina James has her whole future planned out: graduate from college, kick butt in law school, and land a high-paying job at a cutthroat firm. Her path to escaping her shameful past certainly doesn't include a gorgeous hockey player who believes in love at first sight. One night of sizzling heat and surprising tenderness is all she's willing to give John Tucker, but sometimes, one night is all it takes for your entire life to change.
But the game just got a whole lot more complicated
Tucker believes being a team player is as important as being the star. On the ice, he's fine staying out of the spotlight, but when it comes to becoming a daddy at the age of twenty-two, he refuses to be a bench warmer. It doesn't hurt that the soon-to-be mother of his child is beautiful, whip-smart, and keeps him on his toes. The problem is, Sabrina's heart is locked up tight, and the fiery brunette is too stubborn to accept his help. If he wants a life with the woman of his dreams, he'll have to convince her that some goals can only be made with an assist.
~~~~~
I have been addicted to the Off-Campus series and its characters ever since reading the first novel The Deal, and I honestly cannot wait to read the final one about Tucker and Sabrina's story in The Goal. I have been dying to know what happens with them after reading The Score, and I am so excited it's finally available!
Has anyone else read any of the books in this awesome series? What did you think? Let me know in the comments! Happy reading! ;)
Check out the other books in the Off-Campus series…
Add to Goodreads                        Add to Goodreads                       Add to Goodreads
~About the Author~
Elle Kennedy
A New York Times, USA Today and Wall Street Journal bestselling author, Elle Kennedy grew up in the suburbs of Toronto, Ontario, and holds a B.A. in English from York University. From an early age, she knew she wanted to be a writer, and actively began pursuing that dream when she was a teenager.
Elle writes romantic suspense and erotic contemporary romance for various publishers. She loves strong heroines and sexy alpha heroes, and just enough heat and danger to keep things interesting!