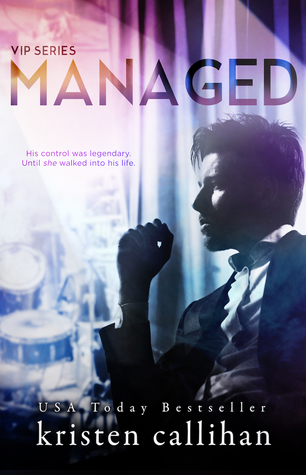 Genre: New Adult Contemporary Romance
Author: Kristen Callihan
Series: VIP #2
Available Formats: eBook | Paperback
Available At: Amazon | Barnes & Noble | iBooks | Kobo | Google Play
Release Date: November 14, 2016
Synopsis
It started off as a battle of wits. Me: the ordinary girl with a big mouth against Him: the sexy bastard with a big…ego.
I thought I'd hit the jackpot when I was upgraded to first class on my flight to London.
That is until HE sat next to me. Gabriel Scott: handsome as sin, cold as ice. Nothing and no one gets to him. Ever. He's a legend in his own right, the manager of the biggest rock band in the world, and an arrogant ass who looks down his nose at me.
I thought I'd give him hell for one, long flight. I didn't expect to like him. I didn't expect to want him. But the biggest surprise? He wants me too. Only in a way I didn't see coming.
If I accept his proposal, I leave myself open to falling for the one man I can't manage. But I'm tempted to say yes. Because the real man beneath those perfect suits and that cool façade just might be the best thing that's ever happened to me. And I just might be the only one who can melt the ice around his heart.
Let the battle begin…
Read the first book in the VIP series…
Genre: New Adult Contemporary Romance
Author: Kristen Callihan
Series: VIP #1
Available Formats: eBook | Paperback
Available At: Amazon | Barnes & Noble | iBooks | Kobo | Google Play
Synopsis
Libby
I found Killian drunk and sprawled out on my lawn like some lost prince. With the face of a god and the arrogance to match, the pest won't leave. Sexy, charming, and just a little bit dirty, he's slowly wearing me down, making me crave more.
He could be mine if I dare to claim him. Problem is, the world thinks he's theirs. How do you keep an idol when everyone is intent on taking him away?
Killian
As lead singer for the biggest rock band in the world, I lived a life of dreams. It all fell apart with one fateful decision. Now everything is in shambles.
Until Liberty. She's grouchy, a recluse—and kind of cute. Scratch that. When I get my hands on her, she is scorching hot and more addictive than all the fans who've screamed my name.
The world is clamoring for me to get back on stage, but I'm not willing to leave her. I've got to find away to coax the hermit from her shell and keep her with me. Because, with Libby, everything has changed. Everything.
Limited Time Sale!
Idol is on a limited time sale for only 99 cents on all retailers! That's only 99 pennies!  Regular price is $4.99, and I don't know how long this deal will last, so hurry up and click any of the links above to buy the eBook version! Happy reading! :)
About the Author
Kristen Callihan
Kristen Callihan is an author because there is nothing else she'd rather be. She is a RITA winner and three-time nominee and winner of two RT Reviewer's Choice awards. Her novels have garnered starred reviews from Publisher's Weekly and the Library Journal, as well as being awarded top picks by many reviewers. Her debut book FIRELIGHT received RT Magazine's Seal of Excellence, was named a best book of the year by Library Journal, best book of Spring 2012 by Publisher's Weekly, and was named the best romance book of 2012 by ALA RUSA. When she is not writing, she is reading.