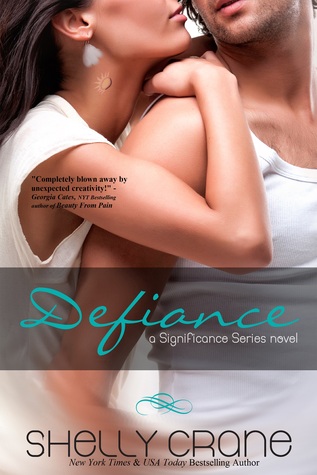 (Click on the cover to take you to the Goodreads page)
Defiance (Significance Series #3)
By Shelly Crane
Genre: Young Adult Paranormal Romance
Available Formats: E-book, Paperback
Available At: Amazon, Barnes & Noble, iBooks, Kobo, and Smashwords
~Synopsis~
In the third installment of the Significance series, we begin with Maggie and Caleb in the clutches of a new enemy; the Virtuoso council. Not only do they have to deal with the consequences of taking the lives of the Watson's and the council attempting to take Maggie away to keep their precious Visionary safe, but they must deal with Marla as well. All are determined to undermine, control and use Caleb and Maggie's rare gifts for their own uses, some wish to destroy them entirely. Then Maggie's father and Bish are threatened but the council forbids the presence of humans. Peter and the family fight and stand beside them every step of the way to save Maggie's father, to keep Caleb and Maggie together when the corrupted council is so set on keeping them apart and to stop Marla and whatever she has up her sleeve. Then Maggie has the shock of her life when she discovers something about her real father. It may change everything for everyone. Stay tuned as the story continues.
~Review~
*No Spoilers, I Promise*
Man oh man, does Shelly Crane know how to write a book. Seriously. "Defiance" was phenomenal and may be my favorite installment yet! Everything about this series just keeps getting better and better, and I honestly can't wait to read more!
     The story was extremely fascinating and intricate, and took me in so many different directions that I was completely captivated by it all, not even being able to remotely guess what was coming next. I love to be surprised and I was so not disappointed. There were many surprising and shocking twists and turns, as well as quite a few new and astonishing details that were revealed, but I must say, it was amazing. I know I have said this before in my reviews of "Significance" and "Accordance," but I was completely captured from the very beginning all the way until the end. Not once did I get bored, or wished to put my e-reader down for one second. I read "Defiance" in a little under two days if that's any indication of how incredible the book was. I honestly don't know how Shelly does it, but I am extremely grateful for her talent and creativity. Her novels are so entertaining, and I swear there is not one that I've read that I haven't loved.
     "Defiance" introduced a lot of new characters, and not all were good (namely the Watson clan), but also had all of the ones I fell in love with from the very first book. Maggie and Caleb were as amazing as ever, if not more so. They were both often put in difficult and awkward situations, namely because of the Viruoso council, but I never had to fear with those two. They were pros through and through, and handled everything that was thrown at them impeccably well. I was truly enthralled and amazed with them, and am so excited to see where the rest of their story goes.
     Everyone from the Jacobson clan was present in London for the yearly Reunification as well. It was wonderful to see the love, adoration, and willingness to stand up and protect their family that all of them had for each other. It was also amazing and exciting to see how things developed between Bish and Jen, as well as Kyle and Lynne. Gran and little Maria were also very entertaining and I laughed out loud on more than one occasion. Shelly made it so easy to love and connect with all of these characters, and I truly felt like they were a part of my own family. I kind of wished they were : ) I am so thrilled to read the next installment, "Reverence (Significance #3.5)," a novella from Caleb's point of view, to find out more about these wonderful and humble people that I have come to care about and love as my own.
     This book definitely took me on a roller coaster ride of emotions and amazed and stunned me on more than one occasion, but I am so thankful that I read it. It was truly phenomenal, and though not all of it was peachy, it turned out well in the end. And for that, I am eternally grateful. The Significance Series is truly a masterpiece of Young Adult ficition, and I am ecstatic to read more!
Rating: 5 STARS