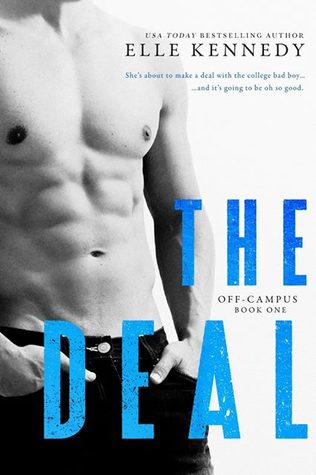 Genre: New Adult Contemporary Romance, New Adult Romance, Contemporary Romance, Women's Fiction, Chick Lit
Publisher: Elle Kennedy
Available Formats: eBook, Paperback, Audible
Available At: Amazon, Barnes & Noble, iBooks, Kobo, etc.
Release Date: February 24, 2015
~Synopsis~
She's about to make a deal with the college bad boy…
Hannah Wells has finally found someone who sparks a passionate nature in her. But while she might be confident in every other area of her life, she's carting around a full set of baggage when it comes to being intimate and seductive with the opposite sex. If she wants to get her crush's attention, she'll have to step out of her comfort zone and make him take notice… even if it means tutoring the annoying, childish, cocky captain of the hockey team in exchange for a pretend date.
…and it's going to be oh so good.
All Garrett Graham has ever wanted is to play professional hockey after graduation, but his plummeting GPA is threatening everything he's worked so hard for. If helping a sarcastic brunette make another guy jealous will help him secure his position on the team, he's all for it. But when one unexpected and passionate kiss changes both their lives, it doesn't take long for Garrett to realize that pretend isn't going to cut it. Now he just has to convince Hannah that the man she wants looks a lot like him.  
~Review~
"The Deal" was the first book I had ever read by Elle Kennedy, and it was amazing! I loved her writing style and the storyline and characters she created. They drew me right in from the very beginning, and I honestly couldn't get enough. Hannah and Garrett were awesome, and I loved their personalities and chemistry together. They were extremely entertaining, and I loved how their relationship progressed. I also loved the pace of the book, and how the story was told from both of their points of view. Many of the secondary characters were wonderful as well, and I'm looking forward to reading their stories in the books to come. I immensely enjoyed reading Hannah and Garrett's story, and couldn't have hoped for a better ending. I am truly in love with the Off-Campus series, and cannot wait to read the next installment!
Rating:
FIVE "Addictive" Stars!
~About the Author~
Elle Kennedy
A New York Times, USA Today and Wall Street Journal bestselling author, Elle Kennedy grew up in the suburbs of Toronto, Ontario, and holds a B.A. in English from York University. From an early age, she knew she wanted to be a writer, and actively began pursuing that dream when she was a teenager.
Elle writes romantic suspense and erotic contemporary romance for various publishers. She loves strong heroines and sexy alpha heroes, and just enough heat and danger to keep things interesting!