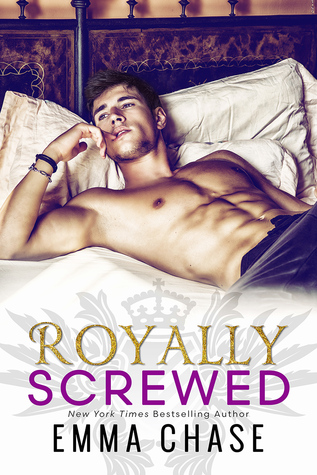 Genre: Contemporary Romance
Title: Royally Screwed
Author: Emma Chase
Series: Royally #1
Available Formats: eBook | Paperback | Audiobook
Available At: Amazon | Barnes & Noble | iBooks | Kobo | Google Play
Release Date: October 18, 2016
Synopsis
Nicholas Arthur Frederick Edward Pembrook, Crowned Prince of Wessco, aka His Royal Hotness, is wickedly charming, devastatingly handsome, and unabashedly arrogant; hard not to be when people are constantly bowing down to you.
Then, one snowy night in Manhattan, the prince meets a dark haired beauty who doesn't bow down. Instead, she throws a pie in his face.
Nicholas wants to find out if she tastes as good as her pie, and this heir apparent is used to getting what he wants.
Dating a prince isn't what waitress Olivia Hammond ever imagined it would be.
There's a disapproving queen, a wildly inappropriate spare heir, relentless paparazzi, and brutal public scrutiny. While they've traded in horse drawn carriages for Rolls Royces, and haven't chopped anyone's head off lately, the royals are far from accepting of this commoner.
But to Olivia, Nicholas is worth it.
Nicholas grew up with the whole world watching, and now Marriage Watch is in full force. In the end, Nicholas has to decide who he is and, more importantly, who he wants to be: a King… or the man who gets to love Olivia forever.
Cover Design: By Hang Le
Review
Emma Chase is now a new favorite author of mine! Royally Screwed was my first novel of hers that I read, and it will definitely not be the last. I absolutely loved the storyline and characters she created and how she brought everything to life in a spectacular way. Emma's writing style was excellent and I thoroughly enjoyed reading every single page of Nicholas and Olivia's story. It has been a long time since I've read a Royal-inspired novel, and Royally Screwed definitely renewed my love for this trope.
   Nicholas and Olivia were amazing characters and I honestly couldn't help but fall in love with them and their story from the very beginning. They were both extremely likable characters, and even though they had their moments of stupidity now and then, I loved reading every second of their story. It was interesting, intriguing, and most definitely entertaining. I loved reading the book from both of their points of view, and I was very glad the author told their story that way. I can tell you right now that I would not have loved this book nearly as much if it had only been told from Olivia's POV. The secondary characters were wonderful as well and were quite the lively bunch. They definitely made the book more interesting to read and added extra life to the story. I also loved the abundance of romance and humor the author wove throughout the book, and thought she did an excellent job with every aspect of Nicholas and Olivia's story. There were plenty of surprising moments throughout, especially towards the end of the book, and I was extremely pleased with the conclusion. To say I'm excited to read Henry's story in Royally Matched would be an understatement. I honestly can't wait to get my hands on his book!
Rating:
FIVE "Royally" STARS!
About the Author
Emma Chase
Emma Chase lives in New Jersey with her husband, two children and two misbehaving (but really cute) dogs. She has a long standing love/hate relationship with caffeine.
Emma is an avid reader. Before her children were born she was known to consume whole books in a single day. Writing has also always been a passion and with the 2013 release of her debut romantic comedy, Tangled, the ability to now call herself an author is nothing less than a dream come true.