Genre: Contemporary Romance
Title: Sweet Cheeks
Author: K. Bromberg
Available Formats: eBook | Paperback
Purchase At: Amazon | Barnes & Noble | iBooks | Kobo
Release Date: November 14, 2016
Synopsis
An all new second chance love story by the New York Times Bestselling author of the Driven series.
It all started with the invitation. To my ex-fiance's new wedding. I should have ignored it. Thrown it away. Set it afire. But I didn't. I replied. With a plus one. And then my assistant accidentally mailed it. Enter Hayes Whitley. Mega-movie star. The man who has captured the hearts of millions. But I gave him mine years ago. He was my first love. He was my everything. Right until he up and left to chase his dreams without so much as a simple goodbye. When he showed up out of the blue ten years later, I should have known to steer clear of him. I should have rejected his offer to take me to my ex's wedding. I should have never let him kiss me. But I didn't. And now we're left wondering if the pieces of the life we once shared still fit together somehow. First loves are hard to forget. The question is, do we want to forget? Or do we risk the chance and see what happens next?
Review
Sweet Cheeks turned out to be an amazing book and I absolutely loved it! I really enjoyed K. Bromberg's writing style and the story and characters she created. Sweet Cheeks was my first novel by K. Bromberg and it will not be the last.
   The storyline was very interesting and I couldn't help but want to read more. I have never read a Hollywood romance before, but I really loved reading Sweet Cheeks and was surprised by how much I ended up enjoying it. The storyline was unique and intriguing, however it did take me quite a while to really get immersed in the book. There were a few parts here and there that annoyed me and some that I found a little boring, but the last seventy or so pages completely changed my opinion. I probably would have  only given Sweet Cheeks four stars or less if the events that took place the last quarter of the book hadn't happened.
   Hayes and Saylor were great and I thought they made a wonderful couple. They were both likable characters and I loved them together. Their relationship with each other was complicated, but it made for some very entertaining moments. The story was mainly told from Saylor's POV, but I loved the few chapters that were from Hayes's. Hayes and Saylor were both strong and independent characters that could sometimes be annoyingly stubborn, but I loved how much they loved each other and was rooting for them to make it from the very beginning. Hayes was so incredibly swoon-worthy and had me fanning myself several times. Some of the things he did for Saylor, especially towards the end, were so sweet and thoughtful, and I couldn't help but love him dearly for it.
   The epilogue really sealed the deal for me and pushed me to rate Sweet Cheeks five stars. It was absolutely perfect and was one of the best – if not the best – conclusions that I have ever read. It made me so freaking happy and I couldn't have been more thrilled with the outcome for Hayes and Saylor!
Rating:
FIVE "Sweet Cheeks" STARS!
About the Author
K. Bromberg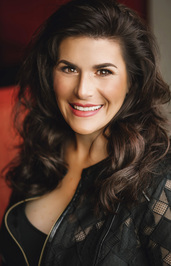 New York Times Bestselling author K. Bromberg writes contemporary novels that contain a mixture of sweet, emotional, a whole lot of sexy, and a little bit of real. She likes to write strong heroines, and damaged heroes who we love to hate and hate to love.
A mom of three, she plots her novels in between school runs and soccer practices, more often than not with her laptop in tow.
Since publishing her first book in 2013, K. has sold over one million copies of her books and has landed on the New York Times, USA Today, and Wall Street Journal Bestsellers lists over twenty-five times.
In April, she'll release The Player, the first in a two-book sports romance series (The Catch, book 2, will be released late June), with many more already outlined and ready to be written.
She loves to hear from her readers so make sure you check her out on social media or sign up for her newsletter to stay up to date on all her latest releases and sales.
Website | Facebook | Twitter | Instagram | Pinterest | Goodreads