Synopsis
Kat has always been a good girl. She studies hard and never stays out too late. But when sitting in a pub on her birthday, she realizes she's a nineteen-year-old virgin who's never really lived. And she wants tonight to be the night that changes.
Then she sees him walk in. He's tall, dark, handsome, and straight out of her deepest fantasies. His voice makes her knees feel weak, and when he smiles, she imagines him doing wicked things to her in bed. From the look in his eyes, she knows he's imagining it too. So when he asks if he can walk her home, she hears herself whisper yes . . .
Purchase Now At:
Kindle | Nook | iBooks | Kobo | Google Play
Review
Forbidden was a great start to Her British Stepbrother series, and I really enjoyed reading the first part of Kat and Tristan's story. They were both very likable characters and quite mature for their ages. I loved Lauren Smith's writing style and that she wrote the story from both Kat and Tristan's POV. I also loved that it was set in England. I don't often read books that are set in different countries, so it was a nice change of scenery. Plus Tristan's British accent was beyond sexy! ;) Part one of Kat and Tristan's story was short and sweet, but had plenty of steam. I enjoyed getting to see their relationship begin, and even though I knew they were going to end up being stepsiblings, the ending still surprised me and left me craving for part two!
Rating = 4 Stars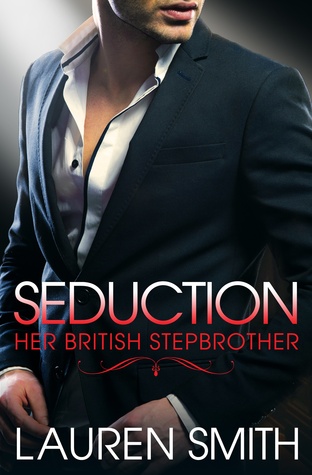 Synopsis
Tristan is a man who knows what he wants. And he wants Kat in his bed. All he has to do is convince her they belong together . . .
Kat knows the connection she and Tristan share is special. Her British bad boy is too much of everything: too hot, too arrogant, too irresistible to stay away from. He's her addiction and one night with him isn't enough.
That's what hurts the most. They can't date, can't be a normal couple, not when their parents are getting married. Because now that she knows he's going to be her stepbrother, no one can ever find out what they've done . . .
Part 2 in the Her British Stepbrother series.
Purchase Now At:
Kindle | Nook | iBooks | Kobo | Google Play
Review
Seduction was a wonderful sequel and I definitely enjoyed it a lot more than the first book. I loved getting to see more of Kat and Tristan, although I was annoyed that Kat was hesitant to commit to a relationship with him for fear of disappointing her father and Tristan's mother, who were engaged. However I was glad that Kat and Tristan were able to spend more time together, and I loved the sizzling chemistry and connection they had with each other. Tristan was extremely swoon-worthy and I loved how well he treated Kat. He was sweet and sexy, plus he had a British accent. What's not to like? Their relationship with each other was special and meaningful, and I couldn't help but root for them to work out as a couple. I really enjoyed reading this book from both of their POV, and I loved the banter between Kat and Tristan. Everything about part two in Her British Stepbrother series left me craving to read more and I cannot wait to see what happens in the conclusion to Kat and Tristan's story!
Rating = 4 Stars
Synopsis
It's time for Kat to face the truth. She can't resist sexy playboy Tristan–he's too deliciously seductive, and much too good at making her melt, body and soul. With photographic proof plastered all over London, the whole world now knows she's fallen for this British bad boy.
There's just one problem. Their parents got married and now Tristan is her stepbrother. They shouldn't be together, but Tristan always gets what he wants, and he wants her more than anything. Behind closed doors, this only makes every moment they spend together hotter, every kiss deeper, as the passion between them blazes higher . . .  
Purchase Now At:
Kindle | Nook | iBooks | Kobo | Google Play
Review
Climax was amazing and I absolutely loved reading the last part of Kat and Tristan's story, even though my heart broke more than once for the characters. A lot seemed to happen in this book, but I enjoyed reading every single page. I fell even more in love with Kat and Tristan, and I had high hopes that they would have a happily ever after. I loved the relationship they had the most in this book, and I loved the abundance of sizzling chemistry and romance throughout. There were plenty of tender and intimate moments between Kat and Tristan, and I loved each one immensely.
   Many of the secondary characters were wonderful as well, especially Lizzy, Carter, and Celia. I was disappointed how badly Kat's father took the news of her and Tristan's relationship, but I could understand where he was coming from. There were definitely a few heartbreaking moments, but I couldn't have been happier with the outcome to Kat and Tristan's story. It didn't end the way I expected it to, but I was pleasantly surprised by the conclusion and couldn't have been more ecstatic for the characters.
   Lauren Smith did a wonderful job with this trilogy, and I am so glad that I gave it a chance. I definitely recommend reading Her British Stepbrother series and Lauren's standalone novel, Legally Charming!
Rating = 5 Stars
About the Author
Lauren Smith
L
auren Smith is an Oklahoma attorney by day, author by night for Grand Central Publishing, who pens adventurous and edgy romance stories by the light of her smart phone flashlight app. She knew she was destined to be a romance writer when she attempted to re-write the entire Titanic movie just to save Jack from drowning. Connecting with readers by writing emotionally moving, realistic and sexy romances no matter what time period is her passion. She's won multiple awards in several romance subgenres including: New England Reader's Choice Awards, Greater Detroit BookSeller's Best Awards, Amazon.com Breakthrough Novel Award Quarter-Finalist and a Semi-Finalist for the Mary Wollstonecraft Shelley Award.
Website | Facebook | Twitter | Instagram | Pinterest | Amazon | Goodreads