Synopsis
After an unexpected twist of fate, All-Star catcher Easton Wylder is left questioning the loyalty of everyone around him.
Even the woman who shares his bed, Scout Dalton.
But if Easton thought being uprooted to the last place he expected was the only challenge life had to throw at him, he was dead wrong.
With an ailing shoulder and his career in limbo, his decision to make an unexpected change leads him to question everything – Scout's love, family loyalties, and whether he can conquer the one obstacle he's never been able to overcome. The secret he's never shared with anyone.
He may be a man pushed to his limits, but he's hell-bent on proving his worth no matter the cost.
Purchase Today!
Amazon: http://smarturl.it/AmzTheCatch
iBooks: http://smarturl.it/iBooksTheCatch
B&N: http://smarturl.it/NookTheCatch
Kobo: http://smarturl.it/KoboTheCatch
Paperback: http://smarturl.it/TheCatchPaper
Review
NO SPOILERS!
The Catch was absolutely amazing and completely exceeded my expectations and then some! K. Bromberg blew me away and knocked it out of the ballpark with the conclusion to Easton and Scout's story, and I was extremely pleased with the outcome to their duet.
   I fell even more in love with Easton and Scout and couldn't get enough of them and their story. They were two of my favorite characters that I've ever had the pleasure of reading about, and even though their story was far from perfect, I absolutely loved reading every single page. There were definitely several frustrating moments throughout, and I don't think I've ever come across more plot twists in a novel than I did in this one. My head and heart went on a roller coaster ride of emotions, but all of the heartache and frustration from time to time was worth it in the end. There were several shocking and surprising twists and turns that I didn't see coming, and they left my mouth agape and had me on the edge of my seat the entire time. I definitely went on the ride of my life with The Catch, but I enjoyed almost every minute of it. Most of the secondary characters were wonderful as well, with the exception of a few, and I really enjoyed their addition to the story. Nearly everything about this novel was amazing, and I couldn't have loved it more.
   The Catch was sexy, swoon-worthy, utterly addicting, and one of my favorite sports romances of all time! I absolutely loved everything about The Player duet and truly couldn't have been happier with the conclusion to Easton and Scout's story. It was perfect in every way and made me so freaking happy that I couldn't stop smiling. K. Bromberg is definitely a new favorite author for me, and I immensely enjoyed her writing style and the storyline and characters she created in The Player duet. I am so glad that I discovered her books, and I truly can't wait to devour the rest of them very soon! The Player duet is one of my TOP FAVORITE reads of the year, and a definite MUST READ for all of you baseball and sports romance addicts!
Rating:
FIVE "Easton & Scout" STARS!
About the Author
K. Bromberg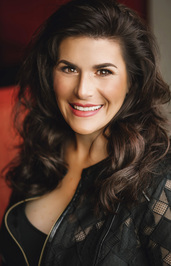 New York Times Bestselling author K. Bromberg writes contemporary novels that contain a mixture of sweet, emotional, a whole lot of sexy, and a little bit of real. She likes to write strong heroines, and damaged heroes who we love to hate and hate to love.
A mom of three, she plots her novels in between school runs and soccer practices, more often than not with her laptop in tow.
Since publishing her first book in 2013, K. has sold over one million copies of her books and has landed on the New York Times, USA Today, and Wall Street Journal Bestsellers lists over twenty-five times.
In April, she'll release The Player, the first in a two-book sports romance series (The Catch, book 2, will be released late June), with many more already outlined and ready to be written.
She loves to hear from her readers so make sure you check her out on social media or sign up for her newsletter to stay up to date on all her latest releases and sales.
Website | Facebook | Driven Group | Twitter | Instagram