Synopsis
From the New York Times bestselling author, K. Bromberg, comes a new series about three brothers, the job that calls them, and the women who challenge them. 
"I hate you. I never want to see you again." 
Grant Malone is not the reason I moved back to Sunnyville—at least that's what I tell myself. Yet, those parting words I said to him back in third grade, ring in my ears every time a townsperson brings up one of the Malone boys. I thought time had healed my wounds. I was wrong. Nothing could have prepared me for how I felt when I finally saw him again. 
Twenty years does a lot to turn a boy into a man. One who hits all my buttons—sexy, funny, attractive, and a police officer. But Grant is off limits because he knows too much about my past. 
But I'm drawn to him. That damn uniform of his doesn't hurt either. It'll be my downfall. I know it. 
What's one night of sex going to hurt . . . right? 
*** 
I've always loved Emmy Reeves. 
That's why I'm shocked to see her all these years later. The shy girl I once knew is all grown up. 
Adventurous and full of life, she owns my heart now, just as much as she did back then. Convincing her of that is a whole different story. 
I'll give her the one night she asks for—like that's a hardship—but when it comes to letting her walk away after, she has another thing coming. There's no way in hell I'm letting her go this time without a fight.
Purchase Today!
Review
NO SPOILERS!
Cuffed was a sexy, raw, and extremely emotional standalone contemporary romance, and I absolutely loved it! K. Bromberg blew me away with the storyline and characters, and I loved her writing style. I can already tell that the Everyday Heroes series will be one of my favorites, and I can't wait to read more about the Malone brothers!
   The storyline was intense and kind of unexpected. The synopsis didn't give a lot away about the hero and heroine's past, and I didn't know what it entailed, so I was a little blindsided when I discovered the truth. There were definitely difficult and trying moments throughout, and I experienced a roller coaster of emotions while reading Cuffed: happiness, sadness, anger – you name it, I felt it. Jut as a warning, there may be triggers for some readers. Even though the heroine's past didn't relate to me in any way, my heart still broke for her (both as a little girl and the grown woman she was today), and I was very emotional when it came to certain parts of the story. If it was slightly difficult for me as the reader, I can't imagine what it was like for K. Bromberg to write it. I give her huge applause for having the courage to create and share this raw and emotional story with everyone.
   The characters were phenomenal. Grant Malone and Emerson Reeves were amazing, and I loved them very much. Even though Grant and Emerson's situations didn't pertain to me specifically, I felt an instant connection and fell head over heels in love with them. I loved their personalities and red-hot chemistry together, and how most of their relationship progressed throughout. I loved reading the book from both Grant and Emerson's point of view, and most of their banter and interactions with each other. Their journey wasn't easy by any stretch of the imagination. There were a lot of up and down, as well as hot and cold moments throughout, but despite some of the hardships, I was more than ecstatic with the conclusion to Grant and Emerson's story. K. Bromberg gave me the ending I so desperately wanted for these two and I couldn't have been happier. I also fell in love with the Malone family and a few other secondary characters. They added a wonderful dynamic to the story, and I can't wait to see more of them in the rest of the Everyday Heroes series!
   Cuffed was a sexy, raw, and emotional standalone contemporary romance that dealt with some difficult topics, but I would HIGHLY recommend it! K. Bromberg truly did an amazing job with Grant and Emerson's story, and I was very happy with the outcome. I have fallen in love with the Malone family and several other characters, and I'm so excited to read more in the rest of the Everyday Heroes series!
5 STARS
About K. Bromberg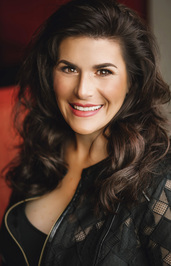 New York Times Bestselling author K. Bromberg writes contemporary novels that contain a mixture of sweet, emotional, a whole lot of sexy, and a little bit of real. She likes to write strong heroines, and damaged heroes who we love to hate and hate to love.
A mom of three, she plots her novels in between school runs and soccer practices, more often than not with her laptop in tow.
Since publishing her first book in 2013, K. has sold over one million copies of her books and has landed on the New York Times, USA Today, and Wall Street Journal Bestsellers lists over twenty-five times.
In April, she'll release The Player, the first in a two-book sports romance series (The Catch, book 2, will be released late June), with many more already outlined and ready to be written.
She loves to hear from her readers so make sure you check her out on social media or sign up for her newsletter to stay up to date on all her latest releases and sales.
Website | Facebook | Driven Group | Twitter | Instagram