Synopsis
From New York Times Bestselling author, K. Bromberg, comes the second standalone book in the Everyday Heroes series. Just how hot will firefighter Grady Malone turn up the heat? 
Songwriter Dylan McCoy has been burned. 
By her boyfriend she found in her bed . . . with someone else. 
By the contract she signed that obligates her to work with him until the songs for his new album are complete. 
By her agent when she asked Dylan to keep their breakup on the down-low. 
When she finds herself in Sunnyville, she refuses to let her new roommate burn her too. Still . . . a rebound has never looked so good. 
That's her first thought when she sees firefighter Grady Malone. 
Sexy. Charismatic. Unapologetic. He's a man who carries his own scars—the ones on his back, the survivor's guilt on his soul, and the fear in his heart. 
When an unexpected visitor puts their roommate status to the test, will their undeniable attraction burn out, or will they both take a chance and play with fire?
Purchase Today!
Amazon US | Amazon UK | Amazon CA |  Amazon PB | Kobo | B&N | iBooks
Review
NO SPOILERS!
Combust was a sexy, heartbreaking/heartwarming, emotional, and beautiful standalone contemporary romance, and I absolutely loved it! K. Bromberg gets better and better with every book she writes, and the storyline and characters she created in Combust completely blew me away. Grady and Dylan's story was another phenomenal addition to the Everyday Heroes series, and I can't wait to read Worth the Risk!
   The storyline was amazing. K. Bromberg is an extraordinary storyteller, and her books always leave me happy, satisfied, and craving more. The messages behind her love stories are very powerful and important, and always make the reader think and feel so much. Combust was a beautiful tale full of heart, heat, humor, healing, and facing your fears and learning to overcome them. It was sexy, it was heartfelt, it was emotional, and above all else, it was beautiful and unforgettable. The plot was incredibly unique, and I was immediately sucked in from the start. I was completely engaged from beginning to end, and loved how everything progressed throughout. K. Bromberg has become one of my top favorite authors, and I can always count on her to deliver the happily ever after I so desperately want for the characters that have stolen a piece of my heart. K. Bromberg has created something truly special with the Malone brothers and Everyday Heroes series, and it will definitely be a favorite of mine.
   The characters were phenomenal. I loved Grady Malone and Dylan McCoy with all of my heart, and they have been my favorite characters from K. Bromberg so far. Grady and Dylan were sweet, kind-hearted, and had easygoing and lovable personalities. They both had flaws and demons to overcome, but honestly, who doesn't? Grady and Dylan were broken in different ways, but at least they found and had each other. I loved their red-hot chemistry together and how their relationship progressed throughout. I loved reading Combust from both Grady and Dylan's point of view, and all of their banter and interactions with each other. Most of the secondary characters were amazing as well, and I loved getting to see a few familiar faces from time to time. Grady and Dylan's story was an emotional yet beautiful roller coaster ride I won't soon forget, and it was a true pleasure going on this journey with them. The conclusion was excellent and made me extremely happy.
   Combust was another sexy, beautiful, and emotional MUST READ love story from K. Bromberg, and I would HIGHLY recommend it! The author did an outstanding job with Grady and Dylan's story, and I was very pleased with the outcome. Combust has been my favorite standalone in the Everyday Heroes series so far, and I can't wait to read Grayson Malone's story in Worth the Risk!
   Two In. Two Out. Face everything and rise.
5 STARS
About K. Bromberg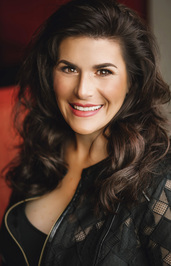 New York Times Bestselling author K. Bromberg writes contemporary novels that contain a mixture of sweet, emotional, a whole lot of sexy, and a little bit of real. She likes to write strong heroines, and damaged heroes who we love to hate and hate to love.
A mom of three, she plots her novels in between school runs and soccer practices, more often than not with her laptop in tow.
Since publishing her first book in 2013, K. has sold over one million copies of her books and has landed on the New York Times, USA Today, and Wall Street Journal Bestsellers lists over twenty-five times.
In April, she'll release The Player, the first in a two-book sports romance series (The Catch, book 2, will be released late June), with many more already outlined and ready to be written.
She loves to hear from her readers so make sure you check her out on social media or sign up for her newsletter to stay up to date on all her latest releases and sales.
Website | Facebook | Driven Group | Twitter | Instagram