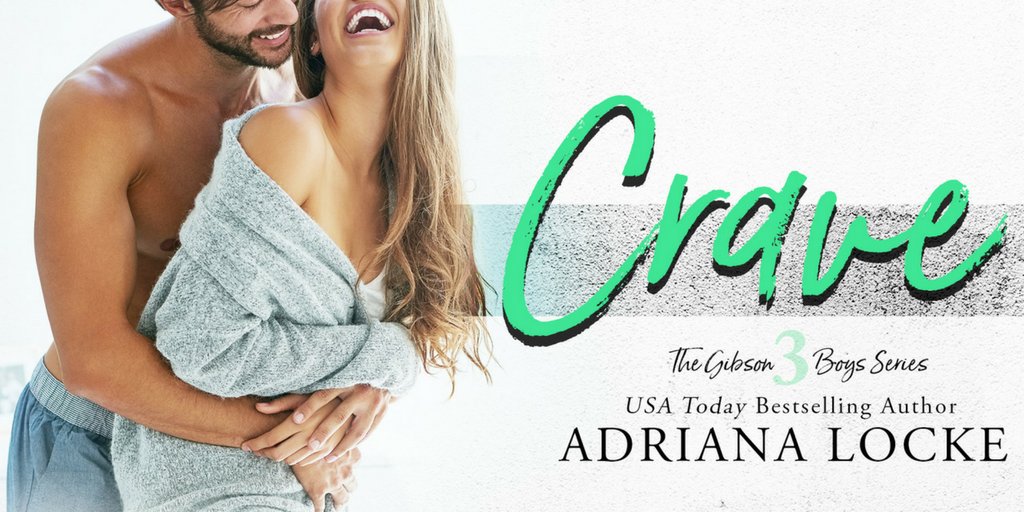 CRAVE, the third standalone in the Gibson Boys series from USA Today bestselling author Adriana Locke, is NOW LIVE!
SYNOPSIS
Hadley Jacobs is over Machlan Gibson.
Sure, she'll always be a little weak to the dimple in his right cheek and the way his five o'clock shadow makes him ruggedly handsome. But that's not enough to cover every other thing about him because they all drive her nuts. Like how he won't admit he's wrong even when he knows it and how he drives his stupid car a million miles an hour on wet asphalt. As she rolls back into town and takes a seat at Crave, she won't take the bait. She's over him. Mostly.
Machlan isn't over her.
It's not because he hasn't tried. He reminds himself over and over that she's not the girl for him. After all, she drives him insane with her sassy attitude and the way she calls him out on everything. She beats him at poker, even though she doesn't know the difference between a straight and a flush, and when she looks at him with her bright, blue eyes, it's unnerving. When she climbs onto that bar stool and orders a drink, he puts it in front of her and ignores the sparkle in her eyes.  He's not over her, but she won't know that.
But she does know that. And he knows she's not as over him as she's pretending to be. When life forces their hand this time, there's more on the line than a pile of poker chips. It's their forever.
Read Today!
Review
NO SPOILERS!
Crave, the third full-length standalone contemporary romance in the Gibson Boys series, was an angsty, emotional, heartbreaking, yet beautiful journey of love, healing, and forgiveness. The storyline and characters were wonderful, and I really enjoyed Adriana Locke's writing style. Crave was another entertaining installment in the Gibson Boys series, and I'm looking forward to Peck's story in Crazy!
   I honestly didn't know what to expect with the storyline for Crave, but it was different and more emotional than I thought it'd be. Machlan and Hadley's journey certainly wasn't easy, and there were a lot of bumps along the way. I shed a few tears on more than one occasion, so make sure you have tissues on hand. There were a few elements that I didn't like as much, and others that were frustrating and annoying at times. There were also some things that were confusing and took a while to figure out. However, every story has its positives and negatives, and while there were some things I didn't care for in Crave, there were a lot of aspects I loved. Overall, Adriana Locke did an excellent job with Machlan and Hadley's story, and I enjoyed it very much.
   The characters were the best part of Crave. Machlan Gibson and Hadley Jacobs were wonderful, and I really enjoyed them and their story. Machlan and Hadley were feisty and stubborn, among other things, but I really liked them for the most part. They definitely had some flaws, but honestly who doesn't? Machlan and Hadley had an interesting relationship and a difficult past, and it took a while to figure everything out. They had great chemistry together, although I would've loved more intimate moments between them, and I enjoyed how most of their relationship progressed throughout. I loved reading Crave from both Machlan and Hadley's point of view, and most of their banter and interactions with each other. The amazing cast of secondary characters, with the exception of a few, really made Crave extra special. I loved the entire Gibson family and all of their significant others, as well as several other characters. Machlan and Hadley's journey was trying at times, and there were some tough moments to get through, but thankfully all of it was worth it in the end. The last few chapters were the best part in my opinion, and I was very happy with the conclusion. I'm definitely excited to read Peck's story, that's for sure.
   Crave will take you on a roller coaster ride of angst, feelings, heartbreak, and emotions, among others, but it will definitely be worth the journey, and I would highly recommend it and the rest of the Gibson Boys series! Adriana Locke did an amazing job with Machlan and Hadley's story, and although it hasn't been my favorite, I was more than pleased with the outcome. The Gibson Boys series has been excellent so far, and I can't wait to read Peck's story in Crazy!
ARC received in exchange for an honest review.
4 STARS
Excerpt
HADLEY
"Oh my God." A rush of wind escapes my lungs as the evening air ushers me away from the bar. I'm intoxicated, and I didn't even drink. That good-looking bastard does this to me every time.
I bend down to tie my shoe. My fingers fumble with the laces, a hold-over from the adrenaline that's starting to taper off. With each second that passes, I feel a little better about my first interaction with Mach.
There was no real fighting. No bloodshed. No tears.
No sex.
"No," I groan as I stand. "I'm not going there. That is not a part of the plan."
"So there was a plan?" Machlan stands, hands tucked in his front pockets, forearms flexing a few feet in front of me. It's a casual posture that any bystander would read as a guy having an easygoing conversation with a woman. That person would be wrong.
The way his deep brown eyes are almost black and the way the little lines form between them tell me all I need to know. There's nothing casual about this.
My heart skips a beat as the scent of him rides the breeze and tortures me. It wasn't as noticeable in the bar. Out here, he's picking me apart without even trying, using his stupid cologne to unlock me like a puzzle.
His body this close to me is the equivalent of drinking three glasses of wine. I'm hot. Bothered. And the struggle to remember I have a brain and am responsible for my behavior is a real thing.
"Why did you follow me?" My words are smooth, void of emotion, and for that, I'm glad. I don't know which emotion would come through if any were attached. I want to tease him, fall into the banter we do so well, but that's not going to help the point of this visit. That's not going to help me become less attached.  
"It's okay for you to pop in Crave, but it's weird for me to follow-up?"
"There's nothing to follow-up."
"I beg to differ." He starts to smile but catches it before it really breaks. "Why are you here, Had?"
"I'm not. I'm leaving."
"Will you stop fucking with me?"
"I'm not fucking with you." I move deliberately in hopes it exudes a confidence I don't own. He stands between me and the handle.  "Will you move, please?"
"No."
"You know what?" I say, wedging myself against him and the door. "You're making this easier than I thought it would be." Gripping the handle, I lift. It opens, but there's not enough room to pull it wide because he. Won't. Move.
I don't look at him. I'm way too close for a move that dangerous. Instead, I tug again. The metal edge digs into his side, burying itself in the fabric of his black T-shirt, but it's not enough to make him step away.
"What is it you're trying to do?" he asks.
"Right now, it's open a door."
His chest bounces around with a deep chuckle. "Fine." He makes an exaggerated step to the side. It's just enough room for me to pull open the door. "I'm telling you—if I hear you met up with that asshole—"
"Oh, no," I say, turning around. "Don't start your shit with me."
"It's not shit, sweetheart."
Despite knowing the term of endearment wasn't used with any endearing wishes, my heart flutters. I bite the inside of my cheek to keep focus.
"And I didn't start it," he continues. "You're the one who came into Crave. I didn't come looking for you."
"I didn't come looking for you either."
It's a lie, and we both know it.
Also Available
#1 Crank
Amazon: https://amzn.to/2xSOyOo
FREE in Kindle Unlimited
Audible: http://bit.ly/CrankAudible
#2 Craft
Amazon: https://amzn.to/2P2w7xc
FREE in Kindle Unlimited
Audible: https://adbl.co/2DLxvmR
#3 Cross
Amazon: https://amzn.to/2Op5SnD
FREE in Kindle Unlimited
Audible: https://adbl.co/2zJ5w3i
About Adriana Locke
USA Today and Amazon Top 10 Bestselling author Adriana Locke lives and breathes books. After years of slightly obsessive relationships with the flawed bad boys created by other authors, Adriana has created her own.
She resides in the Midwest with her husband, sons, and two dogs. She spends a large amount of time playing with her kids, drinking coffee, and cooking. You can find her outside if the weather's nice and there's always a piece of candy in her pocket.
Website | Newsletter | Facebook | Twitter | Instagram