"Sometimes love happens unexpectedly…"
From New York Times and USA Today bestselling author K. Bromberg, comes CONTROL, a new novella in her Everyday Heroes Series, brought to you by 1,001 Dark Nights! Be sure to grab your copy today!
From New York Times and USA Today bestselling author K. Bromberg comes a new story in her Everyday Heroes series…
Control is something Desi Whitman abhors. Why live life in black and white perfection when you can messily color outside the lines?
But when she comes face to face with SWAT officer Reznor Mayne, he's about to show her just how good control can feel.
Grab your copy of CONTROL today!
Amazon | Amazon UK | Amazon CA | Amazon AU
"K. Bromberg always delivers intelligently written, emotionally intense, sensual romance . . ."
—USA Today
Review
NO SPOILERS!
Control was a sexy and surprising standalone novella set in the Everyday Heroes world by K. Bromberg, and I really enjoyed it! The storyline and characters were great, and I loved the author's writing style.
   Reznor Mayne and Desi Whitman were wonderful, and I really enjoyed them and their story. I loved their personalities and red-hot chemistry together, and how most of their relationship progressed throughout. I also enjoyed reading Control from both Reznor and Desi's point of view, and most of their banter and interactions with each other. Their story was different than I originally expected, but no less entertaining. The only negative was that I wanted more of everything. Control was a novella, so obviously I knew it wasn't going to be full-length, but I still would've enjoyed more depth and detail with Reznor, Desi, and their relationship. However, Control was still an interesting and entertaining read from beginning to end, and I enjoyed it very much.
   Control was another sexy and entertaining installment in the Everyday Heroes series, and I would definitely recommend it for fans of this series. K. Bromberg did a wonderful job with Reznor and Desi's story, and I was happy with the conclusion. The Everyday Heroes series has been amazing, especially Cuffed and Combust, and although I'm sad to see it end, I can't wait to read more from K. Bromberg!
ARC received in exchange for an honest review.
4 STARS
About K. Bromberg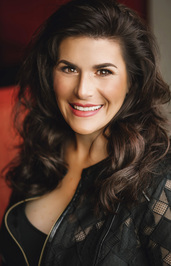 New York Times bestselling author K. Bromberg writes contemporary novels that contain a mixture of sweet, emotional, a whole lot of sexy, and a little bit of real. She likes to write strong heroines, and damaged heroes who we love to hate and hate to love.
She's a mixture of most of her female characters: sassy, intelligent, stubborn, reserved, outgoing, driven, emotional, strong, and wears her heart on her sleeve. All of which she displays daily with her husband and three children where they live in Southern California.
On a whim, K. Bromberg decided to try her hand at this writing thing. Since then she has written the Driven Series (Driven, Fueled, Crashed, Raced, Aced), the standalone Driven Novels (Slow Burn, Sweet Ache, Hard Beat, and Down Shift), a novella (UnRaveled), the Everyday Heroes Series (Cuffed, Combust, Worth the Risk, Control), and Faking It (Releasing January 8, 2019).
Website | Facebook | Driven Group | Twitter | Instagram
Pinterest | Amazon | Goodreads