Synopsis
Faking it never felt so good in this red-hot new standalone by New York Times bestselling author K. Bromberg—available in audio first! 
Zane Phillips mistook me for his dog walker. It shouldn't surprise me that the man with a suit more expensive than my rent would assume that I was there to serve him. The positive? I put him in his place. The negative? I missed my job interview because of it. 
Now I find out he's a rich Australian entrepreneur, and he wants to make up for tanking my interview. Yes, he's impossibly hot – but he's also an arrogant jackass—so . . . no thanks. 
But after a little white lie I tell spirals out of control, I'm somehow offered the chance to play Zane's girlfriend to help promote his new dating website – and the best part? He can't say no because he'll get caught in his lie too. 
Little did I know this would entail sharing a tour bus with him for the next few months. The fact that the bus has just one bed isn't the most ideal of circumstances, but this spokesperson gig might be the kick in the pants my career needs, so why not take a chance? 
Famous last words. 
Now I'm crisscrossing the country–and sharing that bed—with the one guy I can't stand. And even worse, my traitorous body is wondering at every turn what it's like to be down under the gorgeous Australian. But as the miles unfurl, so does our passion…and if I'm not careful, I might end up believing that fairytales really do come true.
Read Today!
 Audiobook | Apple Books | Amazon | Amazon Worldwide | Nook | Kobo
Review
NO SPOILERS!
I absolutely LOVED Faking It! The storyline and characters were even better than I imagined, and I loved K. Bromberg's writing style. Faking It has been one of my top favorite romances from this author so far, and I can't wait to devour more!
   The storyline was amazing. I loved K. Bromberg's take on the "faking it" trope. It was unique, fun, fresh, and entertaining, and I loved it so much. I also loved the enemies-to-lovers vibe between Zane and Harlow. The push and pull between them was electric and undeniable, and I couldn't get enough. Zane and Harlow's journey was so much more than I hoped it'd be, and I was absolutely ecstatic with the conclusion.
   The characters were phenomenal. Zane and Harlow stole my heart, and I fell head over heels in love with them. I loved their personalities and smoking hot chemistry together, and how most of their relationship progressed throughout. Zane and Harlow gave each other a hard time, and tested one another's limits more often than not, but they were a perfect match, and I was over-the-moon happy with the outcome to their story.
   Faking It was a fun, sexy, and entertaining standalone contemporary romance that I would HIGHLY recommend! K. Bromberg nailed it with Zane and Harlow's unique, fresh, flirty story, and I can't wait to read more from her!
5 STARS
About K. Bromberg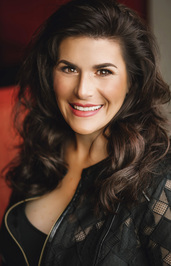 New York Times bestselling author K. Bromberg writes contemporary novels that contain a mixture of sweet, emotional, a whole lot of sexy, and a little bit of real. She likes to write strong heroines, and damaged heroes who we love to hate and hate to love.
She's a mixture of most of her female characters: sassy, intelligent, stubborn, reserved, outgoing, driven, emotional, strong, and wears her heart on her sleeve. All of which she displays daily with her husband and three children where they live in Southern California.
On a whim, K. Bromberg decided to try her hand at this writing thing. Since then she has written the Driven Series (Driven, Fueled, Crashed, Raced, Aced), the standalone Driven Novels (Slow Burn, Sweet Ache, Hard Beat, and Down Shift), a novella (UnRaveled), the Everyday Heroes Series (Cuffed, Combust, Worth the Risk, Control), and Faking It (Releasing January 8, 2019).
Website | Facebook | Driven Group | Twitter | Instagram