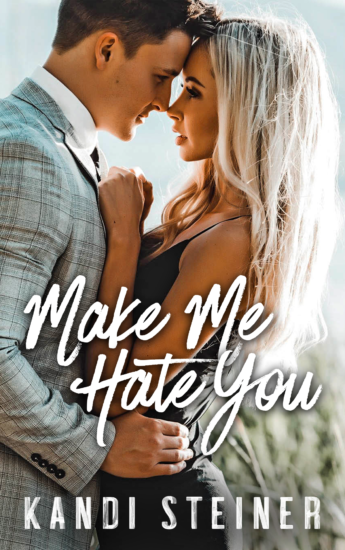 If he kisses me right now, I'll drown.
Every sip of air is shallow and burning, because in the arms of my best friend's brother, I'm the closest I've ever been to sin.
His eyes flick to my lips, and I remember the first time I tasted him, seven years ago before I left this town and vowed never to return. His hands grip my waist, and I remember the pain when he rejected me, when my entire world crashed down at his command. His jaw clenches, and my senses come alive with one stinging reminder.
I'm not his to kiss, and he's not mine.
I tried to stay away from Tyler Wagner, putting an entire country between us. But when his sister's wedding brings us back to the same town, to the same house, I can't avoid him, no matter how hard I try.
He's always there, his dark eyes bewitching, luring me into their depths. The memory of us pulls me under like a rip current, and when he flashes that smile, I lose my breath, along with my will, unable to escape his grip and find the surface.
Now, hours before our plus ones arrive for the wedding, I'm in his arms, begging him to make me hate him, knowing he never could.
If he kisses me right now, I'll drown.
And I'll take him down with me.
Download your copy today or read FREE in Kindle Unlimited!
Review
NO SPOILERS!
Oh my gosh, the angst queen did it again! Make Me Hate You was every angst lovers paradise, and I absolutely loved Tyler and Jasmine's sexy, emotional, angsty, and swoon-worthy story!
   Kandi Steiner pulled out all the stops and definitely didn't disappoint. I've never been a huge angst fan (say what?!), but have gladly devoured most of Kandi's love stories and can't get enough of her prose. She took me on an angsty, emotional journey like no other in Make Me Hate You, and I had a blast reading every single page of Tyler and Jasmine's friends-to-lovers, enemies-to-lovers, and second chance story. It was a difficult journey, but Steiner crafted a beautiful and absolutely perfect conclusion for this amazing, unforgettable couple, and I couldn't have been happier.
   Tyler and Jasmine were amazing, and I loved them so much. I loved their personalities and smoking hot chemistry together, as well as most of their banter and interactions with each other. Tyler and Jasmine's friendship/relationship was real, raw, and chock-full of angst and emotion I won't soon forget.
   Make Me Hate You was a sexy, angsty, emotional, and swoon-worthy standalone contemporary romance from the angst queen, Kandi Steiner, and a definite MUST READ!
5 STARS
About Kandi Steiner
Kandi Steiner is a bestselling author and whiskey connoisseur living in Tampa, FL. Best known for writing "emotional rollercoaster" stories, she loves bringing flawed characters to life and writing about real, raw romance — in all its forms. No two Kandi Steiner books are the same, and if you're a lover of angsty, emotional, and inspirational reads, she's your gal.
An alumna of the University of Central Florida, Kandi graduated with a double major in Creative Writing and Advertising/PR with a minor in Women's Studies. She started writing back in the 4th grade after reading the first Harry Potter installment. In 6th grade, she wrote and edited her own newspaper and distributed to her classmates. Eventually, the principal caught on and the newspaper was quickly halted, though Kandi tried fighting for her "freedom of press." She took particular interest in writing romance after college, as she has always been a diehard hopeless romantic, and likes to highlight all the challenges of love as well as the triumphs.
When Kandi isn't writing, you can find her reading books of all kinds, talking with her extremely vocal cat, and spending time with her friends and family. She enjoys live music, traveling, anything heavy in carbs, beach days, movie marathons, craft beer and sweet wine — not necessarily in that order.
Website | Newsletter | Facebook | Twitter | Instagram