I've signed numerous players to my family's agency—I assumed winning over my next client would be just as easy.

The last thing I expected was to run into the boy who took my first kiss and broke my heart: only now Drew Bowman is all grown up.

Sexy. Scandal-tainted. Second-string. The crush I never got over.

I tell myself work is the reason I can't get him out of my head. I tell him his talent far outweighs his position, and I know I can help. I lie and lie, because admitting that I want a second chance at my first love is impossible.

Some lines cannot be crossed, and ours was drawn in the sand years ago.

***

I'm supposed to hate her.

I've been told so time and again for ten years – her father ruined our family, smeared my name before my career even began.

But that's not what I'm feeling now.

Brexton Kincade just strode out of my memories and onto my field.

Driven. Determined. Grown up. The Capulet to my Montague.

Being with her would be an unforgivable sin against my father, but I can't resist the pull between us. Even if it means hiding what we have. Even if it means confronting the secrets I've always feared were lies.
Read Today!
• Amazon: https://geni.us/H2ScrAmz
• Apple Books: https://geni.us/H2ScAB
• B&N: https://geni.us/H2SBN
• Kobo: https://geni.us/H2ScK
• Google: https://geni.us/H2SGP
Review
NO SPOILERS!
Hard to Score was SO GOOD and K. Bromberg absolutely slayed me with Drew and Brexton's sweet, sexy, emotional, and swoon-worthy love story! I've loved all of the romances I've read from K. Bromberg thus far, but Hard to Score is definitely my new FAVORITE and one of the BEST she's ever written!

   The storyline was fantastic and the author's prose was perfection. I smiled, I laughed, I cried, I swooned, and honestly loved every moment of Drew and Brexton's story. It was so much more than I could've hoped for and definitely exceeded all of my expectations. It hit me right in the feels and made me so happy that I could've burst with joy upon finishing.

   The characters were phenomenal. Drew and Brexton were truly special, and I loved them with all my heart. They were perfect for each other, and though there were certainly bumps along the way, I absolutely loved their journey to happily ever after.

   Hard to Score was sports romance PERFECTION and by far my new FAVORITE novel from K. Bromberg! Drew and Brexton's story was an unforgettable adventure full of love, laughter, heartbreak, and emotions that made me smile and swoon like crazy while shedding a few tears along the way. K. Bromberg did an outstanding job with this standalone in the Play Hard series, and I'm so excited to see what she has in store for the last Kincade sister in Hard to Lose!

Proofread for author.
5 STARS
About K. Bromberg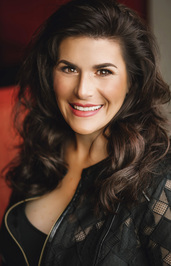 New York Times bestselling author K. Bromberg writes contemporary romance novels that contain a mixture of sweet, emotional, a whole lot of sexy, and a little bit of real. She likes to write strong heroines and damaged heroes who we love to hate but can't help to love.
A mom of three, she plots her novels in between school runs and soccer practices, more often than not with her laptop in tow and her mind scattered in too many different directions.
Since publishing her first book on a whim in 2013, Kristy has sold over one and a half million copies of her books across eighteen different countries and has landed on the New York Times, USA Today, and Wall Street Journal Bestsellers lists over thirty times. Her Driven trilogy (Driven, Fueled, and Crashed) is currently being adapted for film by the streaming platform, Passionflix, with the first movie (Driven) out now.
With her imagination always in overdrive, she is currently scheming, plotting, and swooning over her latest hero. You can find out more about him or chat with Kristy on any of her social media accounts.
Website | Facebook | Driven Group | Twitter | Instagram