Title: Moody
Author: Penelope Ward
Genre: Standalone Contemporary Romance
Cover Design: Letitia Hasser, RBA Designs
Photographer: Leda & St. Jacques
Model: Philippe Leblond
Release Date: August 22, 2022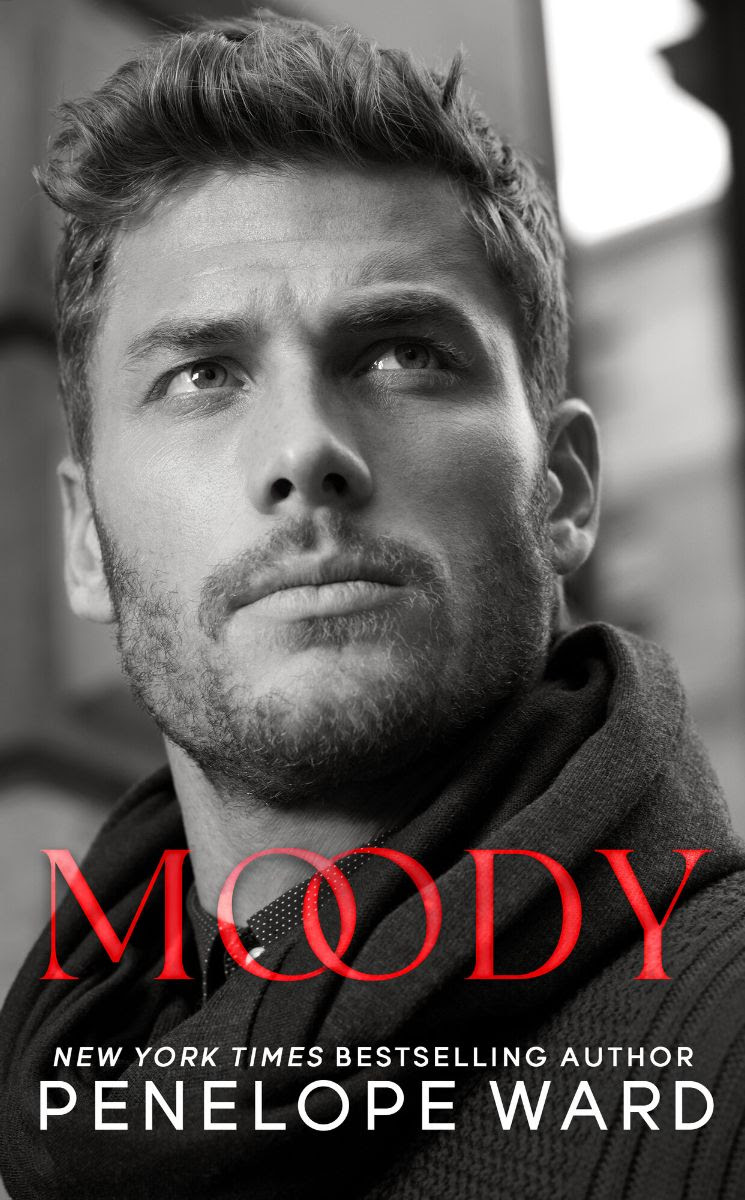 From New York Times bestselling author Penelope Ward, comes a new standalone novel.
 
The day I showed up to Dax Moody's sprawling home, I had no idea what was coming.
As a traveling massage therapist, I was used to entering the houses of strangers.
But this assignment was different from any before it.
From the outside, I'd correctly assumed the owner was rich. What I didn't realize was that he would be younger than I'd imagined, single, stunningly gorgeous, and mysterious.
Despite the fact that Dax had booked a massage, it never actually happened, since our first appointment was unexpectedly cut short by a comedy of errors.
Certain I'd never see him again after that day, I'd done nothing but think about the captivating man.
To my surprise, he called a second time. That appointment, we talked a lot, developing a stronger connection. But once again, there was no actual massage.
The man I now affectionately called "Moody" kept calling me to come back.
It took three times before I finally gave him the massage he'd ordered. Let's just say it was challenging to keep things professional. I was extremely attracted to Dax, and by that time, I was falling hard.
Eventually, I'd find out why he'd been so aloof, the reason why he and I could never be together.
Our story was supposed to end there, but it didn't.
Instead, I was left perpetually longing for a forbidden man.
Read Now!
Amazon US: https://amzn.to/3K8ht53
Amazon UK: https://amzn.to/3px0lwv
Amazon CA: https://amzn.to/3wfUFL1
Amazon AU: https://amzn.to/3Cjzvzt
Apple Books: https://apple.co/3uRdDXM
B&N: https://bit.ly/3Aq6twM
Kobo: https://bit.ly/3QH6NfC
Google Play: https://bit.ly/3C7pMMm
Audible: https://adbl.co/3P1L3dr
Amazon Audio: https://amzn.to/3zxua4w
Paperback: https://amzn.to/3uNMnsY
Review
NO SPOILERS!
Moody was perfection, absolute perfection! I know I say that about Penelope Ward's books all the time, but it's the truth. Every book she writes is romance perfection and instantly becomes one of my favorites. Dax and Wren's story was phenomenal in every way and incredibly special and memorable. I loved it with all my heart, and it was everything I hoped it'd be and so much more. The ending was especially perfect and made me so happy. Dax, Wren, and Rafe will always have a special place in my heart, and I know other readers will fall deeply in love with them too.
  Moody is a MUST READ romance from Penelope Ward, and I highly recommend it!
Proofread for author.
5 STARS
About Penelope Ward

Penelope Ward is a New York Times, USA Today, and #1 Wall Street Journal bestselling author of contemporary romance.
She grew up in Boston with five older brothers and spent most of her twenties as a television news anchor. Penelope resides in Rhode Island with her husband, son, and beautiful daughter with autism.
With over two million books sold, she is a 21-time New York Times bestseller and the author of over twenty novels. Her books have been translated into over a dozen languages and can be found in bookstores around the world.
Website | Newsletter | Facebook | Facebook Fan Group | Twitter