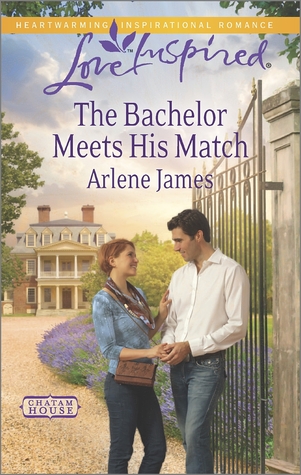 Genre: Christian Romance, Christian Fiction, Love Inspired
Publisher: Love Inspired (An Imprint of Harlequin)
Available Formats: eBook, Paperback
Available At: Amazon, Barnes & Noble, iBooks, Kobo, Harlequin, etc.
~Synopsis~
A Lesson In Love
Tweed-clad professor Morgan Chatam has been the subject of countless student crushes at Buffalo Creek Bible College. But grad student Simone Guilland knows that a relationship with Morgan is out of the question. Even if he weren't her advisor, the secrets from her past prevent them from having a future. In all his years at BCBC, Morgan has never once felt drawn to one of his students—until Simone. He knows he should keep his distance. Simone deserves someone younger, someone who can give her things he cannot. And yet, he can't shake the feeling that his chance at happily-ever-after may just lie in her hands.
Chatam House: Where three matchmaking aunts bring faith and love to life
~Review~
I really enjoyed reading Morgan and Simone's story in "The Bachelor Meets His Match" by Arlene James. I loved the characters and storyline, and thought it was an excellent Christian romance read. It started off a little slow and took me awhile to get into it, but once I did, I really enjoyed it and read the book in under two days. Morgan and Simone were amazing main characters and I really loved their personalities and chemistry together. And although Morgan was nineteen years Simone's senior, the age difference didn't bother me at all. I also loved the fact that I was able to see a few of the other couples and characters from past books in the Chatam House series. I really love reading books by Arlene James and TBMHM was no exception. It had a good pace and held many surprises throughout. I really liked it and cannot wait to read more installments in the Chatam House series!
Rating:
~About the Author~
Arlene James has written romance for more than three decades, and has published 80+ novels. A mother of two wonderful sons and now a happy grandmother to the brightest of all grandchildren, she is finding her sixth decade to be great fun.
She and her very supportive husband of 35 years (whom she agreed to marry on their first date!) enjoy a busy social life and particularly delight in traveling. They have visited much of the world and after calling Texas home for three decades, they have recently relocated to NW Arkansas to be close to family. She has three bright and beautiful granddaughters.
Arlene grew up on a ranch in south central Oklahoma and still maintains strong ties in that area. She is most thankful for a loving Christian daughter-in-law, the godly grandparents of her youth and the three strong men in her life. She firmly believes that writing has afforded her the best of all possible means of earning a living, and credits a junior high school English teacher with proving to her that her dream of being an author was entirely achievable.
She's had two great agents during her career, Charles M. Stern, now retired, and Pattie Steele-Perkins of the Steele-Perkins Literary Agency. She considers both to be the best in their field.