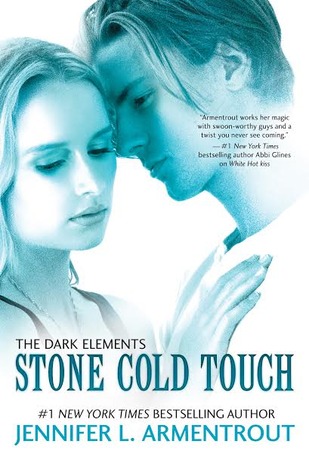 Genre: Young Adult Paranormal Romance, Young Adult Romance, Paranormal Romance
Publisher: Harlequin Teen
Available Formats: eBook, Paperback, Audible
Available At: Amazon, Barnes & Noble, iBooks, Kobo, etc.
Release Date: October 21, 2014
~Synopsis~
Every touch has its price
Layla Shaw is trying to pick up the pieces of her shattered life—no easy task for a seventeen-year-old who's pretty sure things can't get worse. Her impossibly gorgeous best friend, Zayne, is forever off-limits thanks to the mysterious powers of her soul-stealing kiss. The Warden clan that has always protected her is suddenly keeping dangerous secrets. And she can barely think about Roth, the wickedly hot demon prince who understood her in ways no one else could.
But sometimes rock bottom is only the beginning. Because suddenly Layla's powers begin to evolve, and she's offered a tantalizing taste of what has always been forbidden. Then, when she least expects it, Roth returns, bringing news that could change her world forever. She's finally getting what she always wanted, but with hell literally breaking loose and the body count adding up, the price may be higher than Layla is willing to pay…  
~Review~
"Stone Cold Touch" was an exhilarating sequel that left me completely and utterly speechless. I mean seriously, what a plot twister! I thoroughly enjoyed "Stone Cold Touch," even with all the ups and downs I went through while reading it. To say the least, it was completely addictive and so entertaining I could hardly get enough. I liked that I was able to see Layla with Zayne more in this book and how their relationship developed, but on the other hand, I wished Roth had made more appearances as well. I loved, loved, loved Layla, Roth, and Zayne, and even though Ms. Armentrout made me like Zayne more in this book, I am still Team Roth all the way. I really couldn't help but fall even more in love with the sexy Crown Prince, especially after the sacrifice(s) he made for Layla in this book. I definitely wasn't a fan of how some of the Wardens treated Layla, especially Abbot. Let's just say he's permanently on my s*** list now. Stacey and Sam were still as entertaining as ever and I was glad that they had more parts in this book. The ending was epic and just about killed me, and I can officially tell you that I absolutely detest cliffhangers. However this one was certainly well done, and some aspects towards the end made me happy. Like really happy. You've definitely gotta love some Roth. ;) As you can guess, I am literally dying for the next installment, "Every Last Breath," and you can bet your biscuits I will be starting that baby immediately. I cannot wait to read more about this dynamic trio, and I have my fingers crossed that Layla and Roth have a happily ever after! #TeamRoth
Rating:
FIVE "Mind-Blowing" Stars!
~About the Author~
Jennifer L. Armentrout
# 1 NEW YORK TIMES and USA TODAY Bestselling author Jennifer L. Armentrout lives in West Virginia.
When she's not hard at work writing, she spends her time reading, working out, watching zombie movies, and pretending to write. She shares her home with her husband, his K-9 partner named Diesel, and her hyper Jack Russell Loki. Her dreams of becoming an author started in algebra class, where she spent her time writing short stories. Therefore explains her dismal grades in math. Jennifer writes Young Adult Contemporary, Urban Fantasy/Paranormal, and Romance. She writes New Adult and Adult romance under the pen name J. Lynn.