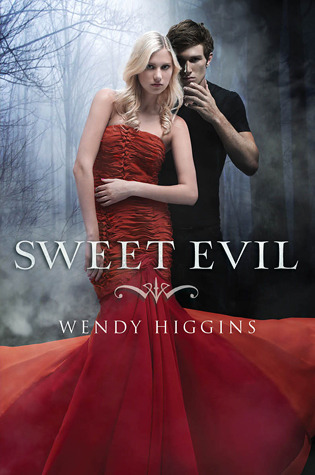 Genre: Young Adult Paranormal Romance, Young Adult Romance, Paranormal Romance
Publisher: Harper Teen
Available Formats: eBook, Paperback, Audible
Available At: Amazon, Barnes & Noble, iBooks, Kobo, etc.
Release Date: May 1, 2012
~Synopsis~
Embrace the Forbidden
What if there were teens whose lives literally depended on being bad influences?
This is the reality for sons and daughters of fallen angels.
Tenderhearted Southern girl Anna Whitt was born with the sixth sense to see and feel emotions of other people. She's aware of a struggle within herself, an inexplicable pull toward danger, but it isn't until she turns sixteen and meets the alluring Kaidan Rowe that she discovers her terrifying heritage and her willpower is put to the test. He's the boy your daddy warned you about. If only someone had warned Anna.
Forced to face her destiny, will Anna embrace her halo or her horns?  
~Review~
"Sweet Evil" was awesome, awesome, awesome, and I loved everything about it! I have read "Sweet Evil" several times over the years since it first released, and it continues to blow me away every single time. It truly was an amazing first installment in this phenomenal YA paranormal romance trilogy, and it had me hooked from the very beginning. The storyline and characters were just incredible, and I loved how unique they all were. I am a sucker for anything with Fallen Angels/Nephilim, so it was a no brainer that I would love this book. Anna and Kaidan were AMAZING, and I immediately fell in love with them. I loved their personalities and chemistry together, and I loved whenever they were together in the book – which wasn't nearly enough. Kaidan could be a little rough around the edges sometimes, but he and Anna were both dealing with difficult circumstances in their lives, so it was understandable. And I knew in my heart that he was just trying to downplay his feelings for Anna to protect them both. Besides, who wouldn't love a hot and mysterious guy with a British accent? That's right, no one. ;) Many of the secondary characters were wonderful as well, with the exception of the Dukes, and I'm looking forward to seeing how some of their relationships progress all over again. Wendy Higgins truly has an extraordinary and creative talent, and I absolutely love her writing style. She always manages to keep me enthralled and addicted from start to finish, and constantly leaves me craving for more.  I am so glad that I found this phenomenal series a few years ago, and I absolutely CANNOT wait to re-read more of the incredible storyline and characters. Thank you, Wendy Higgins!
Rating:
FIVE "Nephilim" Stars!
~About the Author~
Wendy Higgins
USA Today and NY Times Bestselling author, Wendy Higgins, is a former High School  English teacher living in Virginia with her husband, two children, and doggie Rue.
 After earning a Creative Writing degree from George Mason University and a Masters in Curriculum and Instruction from Radford, I taught high school English until becoming a mommy. I've always had a heart for teens, and writing YA stories gives me the opportunity to delve into the ambiguities of those pivotal years before adulthood.