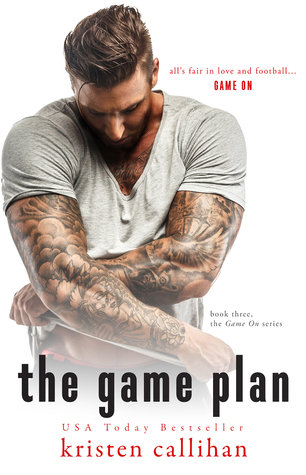 Genre: New Adult Contemporary Romance, New Adult Romance, Contemporary Romance, Women's Fiction, Chick Lit
Publisher: Kristen Callihan
Available Formats: eBook, Paperback
Available At: Amazon, Barnes & Noble, iBooks, Kobo, etc.
Release Date: November 1, 2015
~Synopsis~
A beard-related dare and one hot-as-hell kiss changes everything.
NFL center Ethan Dexter's focus has always been on playing football and little else. Except when it comes to one particular woman. The lovely Fiona Mackenzie might not care about his fame, but she's also never looked at him as anything more than one of her brother-in-law's best friend. That ends now.
Fi doesn't know what to make of Dex. The bearded, tattooed, mountain of man-muscle looks more like a biker than a football player. Rumor has it he's a virgin, but she finds that hard to believe. Because from the moment he decides to turn his quiet intensity on her she's left weak at the knees and aching to see his famous control fully unleashed.
Dex is looking for a forever girl, but they live vastly different lives in separate cities. Fi ought to guard her heart and walk away. But Dex has upped his game and is using all his considerable charm to convince Fi he's her forever man.
Game On.
~Review~
I really enjoyed reading Dex and Fiona's story in "The Game Plan." It wasn't necessarily my favorite book in the Game On series, but it was a very good third installment and I enjoyed reading it very much. Dex and Fiona were amazing main characters and I really liked their personalities and chemistry together. They complemented each other very well, and I thought they were a great fit for one another. I loved how Dex and Fiona's relationship progressed from beginning to end, and that their story was told from both of their POV. I will admit I liked the first three-quarters of the book better than the last, but the epilogue made me quite happy so I was willing to overlook it. I also loved getting to see some familiar characters from the first two books in the series, and how they were all doing. I am truly and completely in love with the Game On series, and whether or not it's completed yet, I am so fortunate to have found such an incredible and addicting series. I truly love football and most definitely romance, so it was a no brainer that I would love the Game On series. It has the perfect balance of football, romance, drama, and humor, and even if you don't like football, I believe you would enjoy it just as much as I have. Kristen Callihan has an amazing talent and writing style, and I will definitely be reading more of her books in the future. Be sure to check out the first two books in the Game On series: "The Hook Up" and "The Friend Zone!" You won't regret it! ;)
Rating:
FOUR "Dex and Fiona" Stars!
~About the Author~
Kristen Callihan
Kristen Callihan is an author because there is nothing else she'd rather be. She is a RITA winner and three-time nominee and winner of two RT Reviewer's Choice awards. Her novels have garnered starred reviews from Publisher's Weekly and the Library Journal, as well as being awarded top picks by many reviewers. Her debut book FIRELIGHT received RT Magazine's Seal of Excellence, was named a best book of the year by Library Journal, best book of Spring 2012 by Publisher's Weekly, and was named the best romance book of 2012 by ALA RUSA. When she is not writing, she is reading.