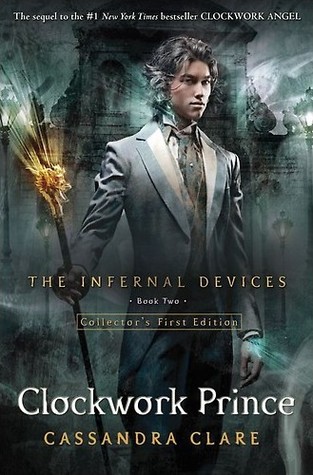 Genre: Young Adult Paranormal Romance, Young Adult Romance, Paranormal Romance, Historical Fiction, Supernatural, Fantasy
Publisher: Simon & Schuster, Margaret K. McElderry
Available Formats: eBook, Paperback, Hardcover, Audible, Audio
Available At: Amazon, Barnes & Noble, iBooks, Kobo, etc.
Release Date: December 6, 2011
~Synopsis~
In the magical underworld of Victorian London, Tessa Gray has at last found safety with the Shadowhunters. But that safety proves fleeting when rogue forces in the Clave plot to see her protector, Charlotte, replaced as head of the Institute. If Charlotte loses her position, Tessa will be out on the street—and easy prey for the mysterious Magister, who wants to use Tessa's powers for his own dark ends.
With the help of the handsome, self-destructive Will and the fiercely devoted Jem, Tessa discovers that the Magister's war on the Shadowhunters is deeply personal. He blames them for a long-ago tragedy that shattered his life. To unravel the secrets of the past, the trio journeys from mist-shrouded Yorkshire to a manor house that holds untold horrors, from the slums of London to an enchanted ballroom where Tessa discovers that the truth of her parentage is more sinister than she had imagined. When they encounter a clockwork demon bearing a warning for Will, they realize that the Magister himself knows their every move—and that one of their own has betrayed them.
Tessa finds her heart drawn more and more to Jem, but her longing for Will, despite his dark moods, continues to unsettle her. But something is changing in Will—the wall he has built around himself is crumbling. Could finding the Magister free Will from his secrets and give Tessa the answers about who she is and what she was born to do?
As their dangerous search for the Magister and the truth leads the friends into peril, Tessa learns that when love and lies are mixed, they can corrupt even the purest heart.
~Review~
Once again, Cassandra Clare didn't fail to disappoint! "Clockwork Prince" was an amazing and exciting sequel that took me on a roller coaster ride, wondering what could possibly happen next. Everything about this book was extremely interesting, and I was once again completely enthralled with the storyline and characters from the very beginning. I fell even more in love with the characters, especially Tessa, Will, and Jem. There was just something about them that drew me in and kept me hooked, and I absolutely loved the relationship the three of them had with one another. I loved getting to know more about their backgrounds, and seeing them interact with each other more. Tessa, Will, and Jem truly and completely stole my heart in the second part of their story, and I couldn't have asked for a better sequel. Will and Jem were both wonderful in their own way, but I will forever and always be Team Will. I loved Jem dearly, but my choice will always be Will. He had me hooked from the very first scene in "Clockwork Angel," and my opinion of him will never change. I also loved discovering more about Charlotte and Henry, Sophie, and the Lightwoods. The story could at times be frustrating and heartbreaking, but was mostly filled with humor, adventure, romance, and everything in between. It was hard to believe that the sequel was even better than the first installment, but Cassandra Clare definitely has an extraordinary talent and managed to blow me away with "Clockwork Prince." Everything about this novel was amazing, and I would recommend it to anyone who is looking for a book with a unique storyline and positively to die for characters. I am so enormously in love with the Shadow World and all of its characters, and I cannot wait to delve into "Clockwork Princess!"
Rating:
FIVE "Clockwork Prince" Stars!
~About the Author~
Cassandra Clare
Cassandra Clare is the #1 New York Times, USA Today, and Wall Street Journal bestselling author of the Infernal Devices trilogy, the Mortal Instruments series, the Bane Chronicles, the Shadowhunter Academy series, and the soon to be released Dark Artifices series and The Last Hours trilogy. She and her husband, along with their two cats, reside in Massachusetts where she continues to write the stories that keep her mind in constant company.