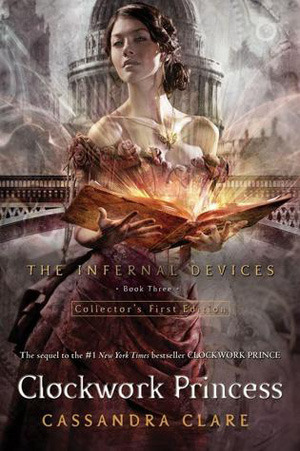 Genre: Young Adult Paranormal Romance, Young Adult Romance, Paranormal Romance, Historical Fiction, Supernatural, Fantasy
Publisher: Simon & Schuster, Margaret K. McElderry
Available Formats: eBook, Paperback, Hardcover, Audible, Audio
Available At: Amazon, Barnes & Noble, iBooks, Kobo, etc.
Release Date: March 19, 2013
~Synopsis~
Danger and betrayal, secrets and enchantment in the breathtaking conclusion to the Infernal Devices trilogy.
Tessa Gray should be happy – aren't all brides happy?
Yet as she prepares for her wedding, a net of shadows begins to tighten around the Shadowhunters of the London Institute.
A new demon appears, one linked by blood and secrecy to Mortmain, the man who plans to use his army of pitiless automatons, the Infernal Devices, to destroy the Shadowhunters. Mortmain needs only one last item to complete his plan. He needs Tessa. And Jem and Will, the boys who lay equal claim to Tessa's heart, will do anything to save her.
~Review~
"Clockwork Princess" was the most epic finale to The Infernal Devices trilogy that I could have ever imagined, and one I will never soon forget! It was extraordinary and breathtaking, and Cassandra Clare did an absolutely phenomenal job concluding everyone's story. The storyline and characters completely captivated me and never once ceased to entertain me. I had an extremely difficult time putting the book down because it was so riveting and had me completely enthralled throughout. I loved the time period The Infernal Devices trilogy was set in, and I loved how the characters thought and spoke. Cassandra Clare definitely has a wonderful and unique way with words, and she truly did a fantastic job with this series. I loved reading and discovering more about each character, and I couldn't have been more ecstatic with the outcome of everyone's story. I loved that Charlotte and Henry, Gideon and Sophie, and Cecily and Gabriel all had a larger voice, role, and purpose in this book other than just Tessa, Will, and Jem. And I loved that more of the story was told from everyone's POV as well. There were moments throughout "Clockwork Princess" where my heart broke and I felt extremely emotional, but there were other times in which I couldn't have been happier. The story was a wonderful mixture of both, and I truly couldn't have asked for a better or more perfect conclusion to such a phenomenal series. I will forever hold each and every character that I have come to love in this series near and dear to my heart, and I will always cherish the wonderful moments and feelings I experienced reading The Infernal Devices trilogy.
Rating:
FIVE "Clockwork Princess" Stars!
~About the Author~
Cassandra Clare
Cassandra Clare is the #1 New York Times, USA Today, and Wall Street Journal bestselling author of the Infernal Devices trilogy, the Mortal Instruments series, the Bane Chronicles, the Shadowhunter Academy series, and the soon to be released Dark Artifices series and The Last Hours trilogy. She and her husband, along with their two cats, reside in Massachusetts where she continues to write the stories that keep her mind in constant company.