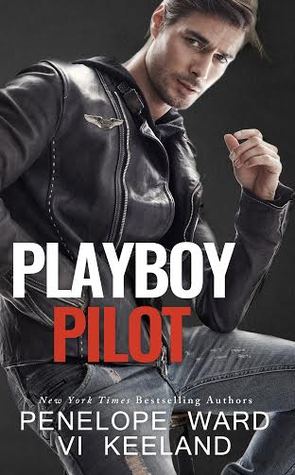 Genre: Adult Contemporary Romance
Authors: Penelope Ward and Vi Keeland
Available Formats: eBook | Paperback | Audiobook
Available At: Amazon | Barnes & Noble | iBooks | Kobo | Google Play 
Release Date: September 19, 2016
~Synopsis~
From the New York Times bestselling authors of Stuck-Up Suit and Cocky Bastard, comes a sexy new standalone novel.
Money or love? Which would you choose?
You probably just answered the question in your head thinking it's an easy decision.
For me, it's not. Did I mention it's a lot of money? A hell of a lot.
I needed to go far away to think it through.
As I embarked on an impulsive trip, I hit a detour when I met sexy Carter in the airport lounge. We struck up a heated conversation.
Then, he left.
I thought I'd never see him again.
But fate had other plans.
Surprise! He was the pilot of my flight.
The bigger surprise was the adventure that followed after the plane landed.
Carter was dangerous and always on the move.
Even though our connection was magnetic, I knew it was only temporary.
He would give me tickets, and I would follow him around the world to exotic places.
A bevvy of flight attendant exes and rumors about Carter's reputation were never far behind.
I didn't know what to believe.
But I was addicted. Nothing else mattered anymore. And I was going to get hurt. Because a part of me wanted to be the one to finally ground the playboy pilot.
At the very least, he was taking me on a thrilling ride.
All good things must come to an end, right?
Except our ending was one I didn't see coming.
~Review~
NO SPOILERS, I PROMISE!
Playboy Pilot was a unique, intriguing, and incredibly entertaining read that had me hooked from the very first page! Everything from the storyline and characters to the witty banter, humor, and romance expertly woven throughout had me utterly addicted from the very beginning, and I truly couldn't get enough of Carter and Kendall's story. It was absolutely amazing and completely blew me away!
   Carter and Kendall were truly phenomenal and I fell in love with them immediately in the very first chapter. They were incredibly likable characters, and I loved their personalities. Their chemistry was red hot, but extremely romantic at the same time. I loved the relationship they had with each other, and the spontaneous and entertaining adventure they embarked on together. Every part of their story was special and memorable, and I LOVED reading it from both of their POV. The only part I didn't care for was the conflict, but then again who really enjoys the conflict in any book? Definitely not me. It really wasn't a big deal and in no way diminished my love or view of the book. With that being said, I truly couldn't get enough of Carter and Kendall's story and wanted it to last as long as possible. I was sad when it was over, but couldn't have been more thrilled with the outcome. It was definitely one of my top five favorite novels this year so far!
   I honestly can't get enough of the dynamic duo writing team that is Penelope Ward and Vi Keeland. Every time I read their books, both written together and separately, I am always left craving for the next one, and Playboy Pilot was no different. I loved every single thing about it and couldn't have been more pleased with the way Carter and Kendall's story turned out. I highly encourage everyone who loves an amazing and expertly written contemporary romance to check out Playboy Pilot. I sincerely doubt you'll regret it!
5 STARS
~About the Authors~
Penelope Ward
Penelope Ward is a New York Times, USA Today and #1 Wall Street Journal Bestselling author.
She grew up in Boston with five older brothers and spent most of her twenties as a television news anchor before switching to a more family-friendly career.
Penelope lives for reading books in the new adult genre, coffee and hanging out with her friends and family on weekends.
She is the proud mother of a beautiful 11-year-old girl with autism (the inspiration for the character Callie in Gemini) and a 9-year-old boy, both of whom are the lights of her life.
Penelope, her husband and kids reside in Rhode Island.
She is the author of nine novels. Her book RoomHate hit #2 on the New York Times Bestseller list and #1 on the Wall Street Journal Bestseller list. Other New York Times bestsellers include Stepbrother Dearest, Stuck-Up Suit and Cocky Bastard (the latter two co-written with Vi Keeland).
Website | Facebook | Twitter | Goodreads | Instagram
Vi Keeland
Vi Keeland is a native New Yorker with three children that occupy most of her free time, which she complains about often, but wouldn't change for the world. She is a bookworm and has been known to read her kindle at stop lights, while styling her hair, cleaning, walking, during sporting events, and frequently while pretending to work. She is a boring attorney by day, and an exciting New York Times & USA Today Best Selling smut author by night!