Synopsis
From New York Times bestselling author K. Bromberg comes a new, sexy standalone about taking chances and finding love when it's least expected. Or wanted.
This whole contest was supposed to be easy. I know, I know. Famous last words.
It's a long story, but I messed up at work. Big time. To earn back the trust of my boss, I promised to save one of our magazines. Yep. That Hot Dad contest you've seen advertised all over the place was my idea. And if I'm successful, if I'm able to increase our online readership, then I get a shot at my dream job.
But the one thing I never expected to happen, happened: Contestant number ten, Grayson Malone. Hello, Mr. Difficult. And did I mention sexy as hell?
Unfortunately he knows me. The old me, anyway. And while we might be older now, I remind him of before. Of the woman who broke his heart, who hardened him, and who left him alone to raise the cutest little boy I've ever seen. 
But I don't want a relationship. And I definitely don't fall for single dads with baggage. Even ones with chiseled abs and killer smiles. 
But he got to me. They got to me. He and his son and their messy, crazy life. But I got to him too. I see the stolen glances. I feel the walls he built start to crumble. I recognize that there's an unexpected beauty to the chaos in his life. 
And now that the contest is about to end, we're left to decide whether the last six months were just fun or if what we have is worth risking it all? 
(formerly titled Cockpit)
Purchase Today!
Amazon US I Amazon Universal I iBooks I Nook I Kobo
Review
NO SPOILERS!
Worth the Risk was a sweet, sexy, and entertaining standalone contemporary romance in the Everyday Heroes series, and I really enjoyed it! K. Bromberg did a great job with the storyline and characters, and I once again loved her writing style. Single dad romances are one of my favorite kinds of stories to read, and Worth the Risk definitely checked that box. Worth the Risk hasn't been my favorite standalone in the Everyday Heroes series, and it was different than I expected in some ways, but I still really enjoyed Grayson and Sidney's story. Even though I didn't love everything about Worth the Risk, and there were some parts that frustrated and annoyed me, I was very happy with the conclusion to Grayson and Sidney's story. K. Bromberg has done an amazing job with the Everyday Heroes series so far, and I can't wait to read the final installment about Desi Whitman in Control!
4 STARS
About K. Bromberg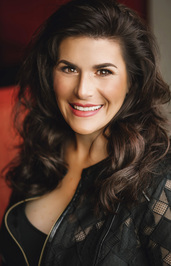 New York Times Bestselling author K. Bromberg writes contemporary novels that contain a mixture of sweet, emotional, a whole lot of sexy, and a little bit of real. She likes to write strong heroines, and damaged heroes who we love to hate and hate to love.
A mom of three, she plots her novels in between school runs and soccer practices, more often than not with her laptop in tow.
Since publishing her first book in 2013, K. has sold over one million copies of her books and has landed on the New York Times, USA Today, and Wall Street Journal Bestsellers lists over twenty-five times.
In April, she'll release The Player, the first in a two-book sports romance series (The Catch, book 2, will be released late June), with many more already outlined and ready to be written.
She loves to hear from her readers so make sure you check her out on social media or sign up for her newsletter to stay up to date on all her latest releases and sales.
Website | Facebook | Driven Group | Twitter | Instagram