An all new flirty, lighthearted, standalone romance by New York Times bestselling author K. Bromberg guaranteed to make you swoon.
Blakely Foxx is having one of those years.
Her divorce may have been finalized a few months ago, but her ex is already engaged to someone half her age. Her younger boss is determined to sabotage her chance at getting the promotion she rightly deserves. And to make matters worse, she's closing in on the big 4-0. There isn't enough wine or ice cream in the world to convince her things will turn around.
When Blakely meets Slade Henderson, she's left wondering why an early-thirties, hotter than hell, cardiothoracic surgeon would take an interest in her.
She's been warned that he'll break her heart, but she's willing to take the chance. Not only is he helping her get that promotion, but in the process, he's encouraging her to find the parts of herself she's lost over the past few years.
Slade shows her that good guys really do exist, but who knew the hardest part about turning forty would be realizing the man you thought was a rebound, is actually your happily ever after?
Read Today!
Amazon | Apple | Nook | Kobo | Google Play
Review
NO SPOILERS!
Who knew K. Bromberg could write a romantic comedy? Flirting with 40 was a sweet, funny, sexy, flirty, swoon-worthy, and lighthearted standalone romance, and I absolutely loved Slade and Blakely's story!
   Bromberg did a phenomenal job with Slade and Blakely's fake dating, opposites attract, older woman/younger man story. I laughed, smiled, swooned, and loved every moment from beginning to end. The conclusion was perfect and made me very happy.
   Slade and Blakely were AMAZING, and I loved them to pieces. They were incredibly lovable and had fantastic personalities. I adored Slade and Blakely's red-hot chemistry together, and enjoyed all of their witty, playful, and sometimes dirty banter and interactions with each other. Slade was totally swoon-worthy, and I was seriously jealous of Blakely. He was one in a million, and I loved him with all my heart. Blakely was wonderful too, and together, they were a perfect match and complemented each other extremely well. It was an absolute delight watching their romance unfold.
   Flirting with 40 was the perfect escape and another MUST READ from K. Bromberg! Slade and Blakely's sweet, sexy, funny, swoon-worthy, and lighthearted romance was amazing in every way, and you won't be disappointed!
5 STARS
About K. Bromberg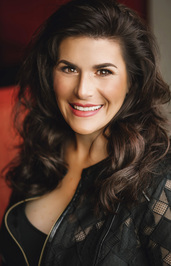 New York Times bestselling author K. Bromberg writes contemporary romance novels that contain a mixture of sweet, emotional, a whole lot of sexy, and a little bit of real. She likes to write strong heroines and damaged heroes who we love to hate but can't help to love.
A mom of three, she plots her novels in between school runs and soccer practices, more often than not with her laptop in tow and her mind scattered in too many different directions.
Since publishing her first book on a whim in 2013, Kristy has sold over one and a half million copies of her books across eighteen different countries and has landed on the New York Times, USA Today, and Wall Street Journal Bestsellers lists over thirty times. Her Driven trilogy (Driven, Fueled, and Crashed) is currently being adapted for film by the streaming platform, Passionflix, with the first movie (Driven) out now.
With her imagination always in overdrive, she is currently scheming, plotting, and swooning over her latest hero. You can find out more about him or chat with Kristy on any of her social media accounts.
Website | Facebook | Driven Group | Twitter | Instagram