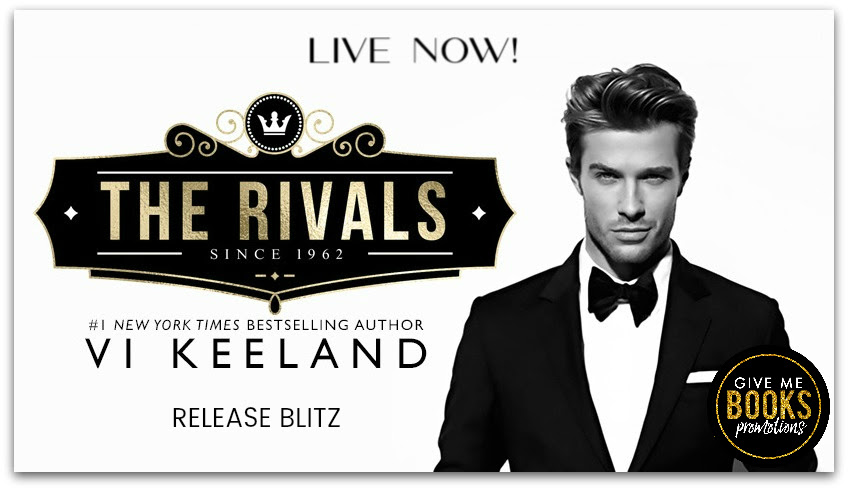 The Rivals, an all-new standalone contemporary romance from #1 New York Times Bestselling Author Vi Keeland, is LIVE!
Title: The Rivals
Author: Vi Keeland
Genre: Standalone Contemporary Romance
Cover Design: Sommer Stein, Perfect Pear Creative
Photo: Walter Chin
Model: Tobias Cameroon
Release Date: July 13, 2020
The feud between Weston Lockwood and me started at the altar.
Only neither of us attended the wedding, and the nuptials happened decades before either of us was born.
Our grandfathers had been best friends and business partners, at least up until my grandfather's wedding day—when his bride-to-be blurted out she couldn't marry him because she was also in love with Weston's grandfather.
The two men spent years fighting over Grace Copeland, who also happened to be their third business partner.  But in the end, neither man could steal half of her heart away from the other.
Eventually, they all went their separate ways.  Our grandfathers married other women, and the two men became one of the biggest business rivals in history.
Our fathers continued the family tradition of feuding.  And then Weston and I did, too.
For the most part, we kept as much distance as possible.
Until the day the woman who started the feud died—and unexpectedly left one of the most valuable hotels in the world to our grandfathers to share.
Now I'm stuck in a hotel with the man I was born to hate, trying to unravel the mess our families inherited.
As usual, it didn't take long for us to be at each other's throats.
Weston Lockwood was everything I hated: tall, smart, cocky, and too gorgeous for his own good.  We were fire and ice. 
But that shouldn't be an issue. Our families were used to being at war. There was just one minor problem, though.   Every time Weston and I fought, we somehow wound up in bed.
Read Today!
Amazon US: https://amzn.to/304fjwv
Amazon UK: https://amzn.to/2Wau2oG
Amazon CA: https://amzn.to/2ZlubaO
Amazon AU: https://amzn.to/302qTbv
Apple Books: http://smarturl.it/g6kldo
Audible: https://smarturl.it/fpn24w
B&N: https://smarturl.it/c7ml16
Kobo: https://smarturl.it/9k7027
Google Play: https://smarturl.it/513dwo
Paperback: https://amzn.to/3fkHptO
Review
NO SPOILERS!
Vi Keeland never disappoints! The Rivals was a super sexy [read: dirty ;)], swoony, funny, and entertaining standalone contemporary romance that kept me riveted from beginning to end, and I absolutely loved Weston and Sophia's story.
   The unique storyline and lovable characters were phenomenal, and I loved Keeland's simple and seemingly effortless prose. Her romances are always a pleasure to read, and she never fails to wow me every single time. Weston and Sophia were amazing, especially Weston, and I adored them with all my heart. They were so incredibly special, and I loved watching their story unfold. Weston and Sophia's romantic journey definitely wasn't easy, but everything was totally worth it in the end and I was ecstatic with the conclusion.
   The Rivals was another winner from Vi Keeland and a definite MUST READ standalone contemporary romance you don't want to miss!
ARC received in exchange for an honest review.
5 STARS
About Vi Keeland
Vi Keeland is a #1 New York Times, #1 Wall Street Journal, and USA Today Bestselling author. With millions of books sold, her titles have appeared in over a hundred Bestseller lists and are currently translated in twenty-five languages. She resides in New York with her husband and their three children where she is
living out her own happily ever after with the boy she met at age six.
Website | Facebook | Facebook Fan Group | Twitter